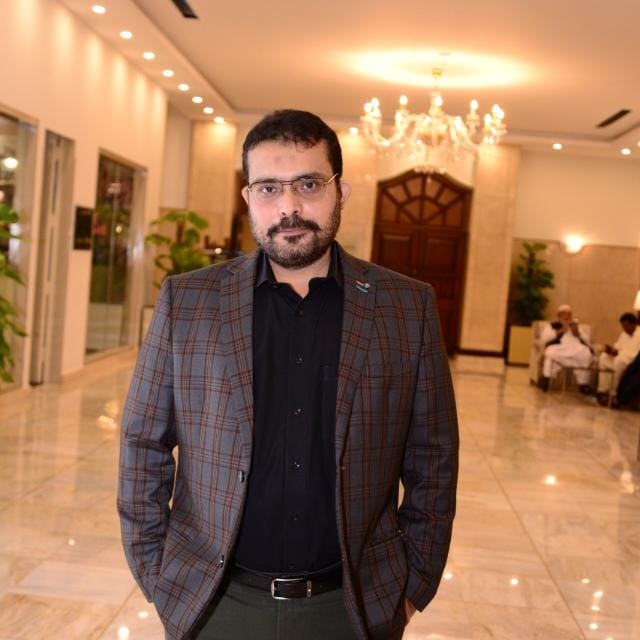 Mr. Faraz Ur Rehman is a born leader and is very passionate about his visions and goals. He holds a Bachelor's degree in Business Administration and a Diploma in Supply Chain Management. He has a very dynamic and visionary personality. 
He is the owner of M.Y Silk Mills, CEO of M.Y Shipping , Logistics and Prompt Service Syndicate. He is the Director of Marketing at M.Y Corporation (Pvt) Ltd. He also holds partnerships with BIZ Consummative, Farhan Corporation, Digital Experts, and M.Y Builders & Developers. He is a Managing Partner in Faisal Traders and M.Y Builders & Developers as well. 
Faraz Ur Rehman has over 26 years of experience in Marketing, Social Media Networking, B2B Networking, Event Management, Construction Management, Project Costing, Property Management, Documentation Procedures, Warehouse Management as well as manufacturing experience in the Garments & Textile sector.
He is an active member in various organizations which includes FPCCI and Pak-Vietnam Joint Business Council ESTD, Association of Builders and Developers and Founder Vice President at the Association Private Colleges of Sindh ESTD. He has also served as VP KATI during the 2013-2014 tenure and SVP KATI during the tenure 2018-2019. 
Apart from the business intellect, he is also a philanthropist by heart and actively takes part in social work such as Eye Camp, Blood Donation Drive and Food Distribution. He is the Founder and President of the Pakistan Business Group Organization, as well as an Advisor to the Hani Welfare Trust.